Bioidentical Progesterone vs. Synthetic Progestins
Written by Kathy Lynch, PharmD – Women's International Pharmacy
There is nothing that bothers bioidentical hormone proponents more than to have the scientific community categorize bioidentical progesterone with synthetic progestins. In 2002, the Women's Health Initiative (WHI) study found a slight increase in breast cancer risk for women using conjugated equine estrogens (CEE) with medroxyprogesterone acetate (MPA). In spite of the fact that the study authors cautioned that their results did not necessarily apply to bioidentical progesterone, the popular press has put progesterone in the same category with MPA ever since.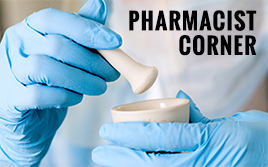 More recent studies support the fact that, contrary to popular belief, MPA and progesterone do not have the same breast cancer risk. Two of these studies occurred in France, where bioidentical hormones are widely used. A study published in 2008 found that, of the 2,354 cases of invasive breast cancer found among 80,377 postmenopausal women, estrogen plus progesterone hormone therapy did not increase the risk of invasive breast cancer while estrogen plus synthetic progestins did. A later study published in 2013 supported these findings.
Progesterone may indeed be beneficial in protecting women against breast cancer. A breast cancer cell-line study supports the theory that progesterone actually causes the destruction of specific breast cancer cells. Another study found that progesterone reduced estradiol-induced growth of female breast tissue when applied 10-13 days before breast surgery. Still another study found that women with progesterone blood levels = or > 4ng/ml before breast cancer surgery had the best survival rate.
It is time that we stop espousing quasi-science by equating bioidentical progesterone with synthetic progestins. They are not the same and never will be.
Rossouw JE, et al. Risks and Benefits of Estrogen Plus Progestin in Healthy Postmenopausal Women: Principal Results From the Women's Health Initiative Randomized Controlled Trial. JAMA. 2002 Jul 17;288(3):321-33.
Fournier A, et al. Unequal risks for breast cancer associated with different hormone replacement therapies: results from the E3N cohort study.Breast Cancer Res Treat. 2008 Jan; 107(1): 103-111. Epub 2007 Feb 27.
Cordina-Duverger E, et al. Risk of Breast Cancer by Type of Menopausal Hormone Therapy: a Case-Control Study among Post-Menopausal Women in France. PLoS One. 2013 Nov; 8(11):e78016. doi: 10.1371/journal.pone.0078016. eCollection 2013.
Formby B, Wiley TS. Progesterone Inhibits Growth and Induces Apoptosis in Breast Cancer Cells: Inverse Effects on Bcl-2 and p53. Ann Clin Lab Sci. 1998; 28(6):360-369.
Chang KJ, et al. Influences of percutaneous administration of estradiol and progesterone on human breast epithelial cell cycle in vivo. Fertil Steril. 1995 Apr; 63(4):785-793.
Mohr PE, et al. Serum progesterone and prognosis in operable breast cancer. Brit J Cancer. 1996 Jan 16; 73:1552-5.