Book Review – Healing Fibroids by Allan Warshowsky, MD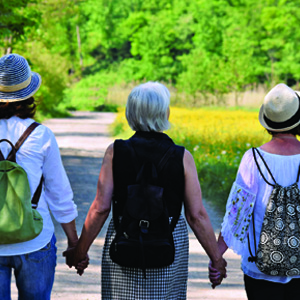 After reading Healing Fibroids: A Doctor's Guide to a Natural Cure, I was convinced that the book is mistitled because it offers so much more. Yes, Dr. Allan Warshowsky covers a significant amount of background and technical detail about fibroids that some may need. He also identifies the different kinds of fibroids, the presentation of symptoms, and the information required along with tests to obtain a diagnosis of fibroids, as well as the usual treatments. But Dr. Warshowsky also provides tangible guidance for dealing with fibroids that may be beneficial for dealing with many other health issues as well.
The presence of fibroids is the predominant reason for a hysterectomy, according to the July 2014 issue of Life Extension Magazine. Most women who experience regular heavy bleeding accompanied at times by severe cramping and pain are only too happy to "cut everything out" when their doctors present that option. This mentality explains why hysterectomy is the most common surgery in the US, with approximately 600,000 performed annually. Dr. Warshowsky's book presents alternatives to that way of thinking.
Dr. Warshowsky is a master at orchestrating individualized treatment programs to actually reverse fibroid problems, or at least to keep them under control until they naturally shrink at menopause when estrogen stimulation diminishes. He uses five basic elements: diet, supplements, herbs, exercise, and mind-body work. He has studied and adds modalities from other traditions, such as homeopathy, Ayurveda, and Chinese medicine. He supports his patients' beliefs in other ethnic or cultural healing traditions. In fact, he closes his book with, " I support their individual needs and beliefs. This fosters a true partnership between us and helps them create a healing environment. The most important point about the whole program is to allow the complementary actions of the various healing systems to awaken your own inner healer."
Dr. Warshowsky also delves into the hormone issues associated with fibroids. Surgery for fibroids, whether if just the uterus is removed (hysterectomy) or if the ovaries are also removed (oophorectomy), causes serious depletions of the ovarian hormones: the estrogens, progesterone, testosterone, and DHEA. Many physicians cavalierly choose to supplement their patients with only estrogen after the surgery. However, exaggerated estrogen levels are what can cause fibroid growth in the first place. Without the whole spectrum of hormones, it is no surprise that women after hysterectomy or oophorectomy tend to be more prone to heart disease, diabetes, and a shortened life span. Dr. Warshowsky goes into even greater depth describing the interplay of hormones, which he calls "the hormone web," recognizing that everything affects everything else.
So, why did I think this book is mistitled? Because once you get through the basic details of fibroids, this book could have been written for anyone at any stage of life. Fibroids are just a symptom of a body that is out of balance. With any illness or discomfort, there is some sort of an imbalance, no matter how the problem presents itself.
Although Dr. Warshowsky cannot see each one of us individually, he shares enough solid information that we can start on a path toward healing ourselves, and also become more informed as to what we might need from those who stand ready to assist us.
The Risks Associated With Fibroid Surgery
The recent trend with regard to any surgery has been toward more minimally invasive approaches, such as laparoscopy, in which case a small lighted tube is passed through a small incision in the abdominal wall. Unfortunately, women who choose this type of surgery may be submitting themselves to the risks of a process called morcellation, without their knowledge.
When used for removing fibroid, if the fibrotic tissue is too big to pull through the tubes or small incision, the surgeon simply shreds it within the abdominal cavity, similar to using a blender. This shredded tissue flies all over inside the abdominal cavity, and some of it might be left behind.
If some of the fibrotic tissue cells happen to not be benign, then cancer cells have been spread. On April 17th, 2014, the US Food and Drug Administration issued a statement discouraging the use of morcellation procedures for the removal of uterine fibroids and hysterectomy.
The risks associated with morcellation provide good reason to stop and think twice before agreeing to uterine surgery. Not many physicians or practitioners will offer this type of information or explain the choices you have, but Dr. Warshowsky's book opens that door.
Written by Carol Petersen, RPh, CNP – Women's International Pharmacy
Edited by Michelle Violi, PharmD – Women's International Pharmacy
© Women's International Pharmacy