Can Inositol Decrease PCOS Symptoms?
Written by Kathy Lynch, PharmD – Women's International Pharmacy
A 1999 study demonstrated that D-chiro-inositol (DCI), a vitamin B factor, improved the health of women with PCOS. When a daily dose of 1200 milligrams was given for six to eight weeks, DCI enhanced insulin action and decreased symptoms.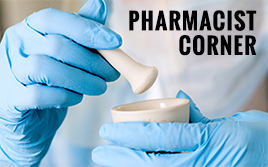 A 2012 study hypothesized that myo-inositol (MI), a precursor to DCI, has greater benefit for women with PCOS, particularly in the area of infertility. Both DCI and MI restore ovulation in women with PCOS, but MI has been associated with harvesting higher quality eggs after in vitro fertilization. Taking MI along with DCI also improves cholesterol profiles in females with PCOS.
Myo-inositol can be found in foods like fruits, beans, grains and nuts. The richest sources of DCI are soy lecithin and egg yolks.
Additional Resources:
Nestler JE, et al. Ovulatory and Metabolic Effects of D-Chiro-Inositol in the Polycystic Ovary Syndrome. N Engl J Med. 1999 Apr: 340:1314-1320.
Isabella R, Raffone, E. Does Ovary Need D-Chiro-Inositol? J Ovarian Res. 2012 May 15;5(1):14.
Minozzi M, et al. The Combined Therapy of Myo-Inositol plus D-Chiro-inositol, in a Physiological Ratio, Reduces the Cardiovascular Risk by Improving the Lipid Profile in PCOS Patients. Eur Rev Med Pharmacol Sci; 2013 Feb;17(4):537-40.