Book Review – Hair like a Fox by Danny Roddy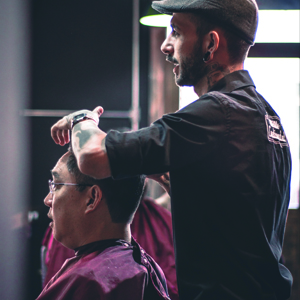 Men and women alike have issues with hair loss. Is this natural? Is this normal? For Danny Roddy, author of Hair like a Fox: A Bioenergetic View of Pattern Hair Loss, fear of hair loss was imprinted in his childhood. At the age of 19, he made it a personal challenge to learn about hair loss and do all that he could to keep his hair. As he had feared, Roddy did begin losing hair despite his efforts. It was only by discovering the work of Dr. Ray Peat that Roddy finally found a new perspective on the underlying cause of hair loss and how it may be prevented.
Conventional Theories of Hair Loss Causes
The Androgen Hypothesis
Let's examine the history first. In the 1940s, Dr. James B. Hamilton published his observations of 104 men without functioning testicles. He found these men did not mature sexually and had altered hormone levels. They also retained their scalp hair, had reduced oiliness of the scalp, and little to no dandruff.
Seeing this connection, Dr. Hamilton administered testosterone to men without functioning testicles who were not bald but who had a family history of baldness. Soon they experienced hair loss, which abated when the treatment stopped. When the testosterone was later resumed, balding proceeded again. Dr. Hamilton concluded that baldness was caused by androgens, specifically testosterone.
In the 1970s Dr. Julianne Imperato-McGinley studied a population in a remote area of the Dominican Republic who were born with ambiguous sexual features. From birth and throughout their childhood, these individuals appeared to be girls. At puberty, however, they developed male sex organs.
These men had no signs of baldness, had small prostate size, and normal testosterone levels. However, they lacked the enzyme needed to convert testosterone to its stronger metabolite, dihydrotestosterone (DHT). Dr. Imperator-McGinley became convinced that DHT—not testosterone— was responsible for male pattern baldness.
Merck and Finasteride
Merck scientists became aware of Dr. Imperato-McGinley's research and developed a drug which would block the production of DHT. The result was finasteride. Finasteride not only reduced symptoms and helped shrink the prostate in men with enlarged prostate glands, but incidentally contributed to regrowth of hair as well.
In Hair Like a Fox, Roddy writes that finasteride may have enough progesterone activity to help with hair loss–at least part of the time. This new treatment was not without drawbacks, however: Large numbers of men suffered side effects such as erectile dysfunction, lack of libido, depression, and suicide. In addition, finasteride was not the total answer for the hair problem, either, as it was only effective for about 40% of the men who took it.
The Androgen Hypothesis Falls Apart
Why do young men with the highest testosterone and DHT have the best hair? Why does balding occur when the hormone levels are dropping with age? Why do women experience "male" pattern baldness? Medical practitioners tend to cling to explanations involving DHT or genetics in spite of the holes in these theories.
Dr. Peat and the Hair Follicle as a Mini-Organ
Dr. Ray Peat is a prolific writer and thinker, and often challenges conventional thinking. Perhaps best known for his fundamental research on progesterone, Dr. Peat's work directs one to consider the hair follicles as mini organs.
Like other organs in the body, hair follicles depend upon the energy of the cells in their structure, and this cellular energy is produced by mitochondria. With time, stressors may diminish the function of the cells; hair follicles become clogged with mucopolysaccharides (mucin), calcification, impaired blood flow leading to low available oxygen, oxidative stress and finally, impaired function of the mitochondria.
Active Thyroid Hormone (T3)
Mitochondria need glucose and oxygen to produce energy. We get glucose with carbohydrates, but our bodies can also convert it from protein. Even more than glucose, however, energy production relies upon oxygen sources. A byproduct of cell energy production is carbon dioxide, which helps move oxygen from the blood and into the tissues and cells.
Active thyroid hormone (T3) stimulates the use of oxygen in breaking down the carbohydrates, fats, and proteins. This, in turn, yields carbon dioxide, which improves the oxygen transport to the cell. In individuals with low thyroid levels, the body produces mucin, a gelatinous substance that solidifies in the spaces between cells. When mucin becomes calcified it cuts off circulation to the scalp. Hairs become progressively wispier until the hair follicle is choked off entirely.
Graying and loss of hair are symptoms of declining mitochondria function, and thus loss of cell energy. If proper cell metabolism is compromised, functioning in all parts of the body is slowed down. Declining cell energy may be linked to a wide variety of diseases, such as:
Alzheimer's
Atherosclerosis
Autism
Cancer
Chronic fatigue
Fibromyalgia
Heart failure
Epilepsy
Hypertension
Hypoglycemia
Depression
Infertility
Migraines
Non-alcoholic liver disease
Obesity
Sleep apnea
Diabetes
Estrogen (and Other Hormones) Can Cause Hair Loss
Progesterone depends upon thyroid function. If estrogen is not balanced by plenty of progesterone, hair loss may result. During menopause, progesterone levels decline while estrogen activity soars. Relatively high levels of estrogen may, in turn, also inhibit progesterone production, creating a vicious cycle.
Hair is affected by other hormones as well. The pituitary hormone prolactin increases with age in men and may inhibit hair growth. Cortisol levels from the adrenal glands increase with aging and may contribute to hair loss.
As it happens, not only do men without functioning testicles have low testosterone levels, but they are also low in estrogen. Perhaps the lack of this hormone further inhibits hair loss for them.
Conclusion
Hair Like a Fox contains many more chapters discussing serotonin, essential fatty acids, types of carbohydrates, proteins, and fats that produce cellular energy and contribute to hair growth. Rather than the simple cause-and-effect theory of androgen-induced baldness, the real key to maintaining hair follicle structure may be to maintain mitochondrial health. Optimizing how the body can best produce cell energy applies to every cell in the body, not just the tiny hair follicle organ. This may be a remedy for not only defying hair loss but also resisting those diseases associated with aging.
Written by Carol Petersen, RPh, CNP – Women's International Pharmacy 
Edited by Michelle Violi, PharmD – Women's International Pharmacy
© 2019 Women's International Pharmacy